Recent data showed that Canada added far more jobs than expected. The Canadian dollar hit a 10-month high, which increased the prospect the Bank of Canada will trigger an interest rate increase next week. Statistics Canada reported the economy added 45,300 jobs last month, which surpassed prospects by more than 10,000.
The unemployment rate is at its lowest since April although more people continue to seek employment. The rate came in at 6.5%. Canadian Visa Expert is an independently-owned immigration service to help foreign nationals who want to relocate to Canada.
The results were mixed as 37,100 new part-time jobs accounted for most of the hiring while the economy added 8,100 new full-time jobs.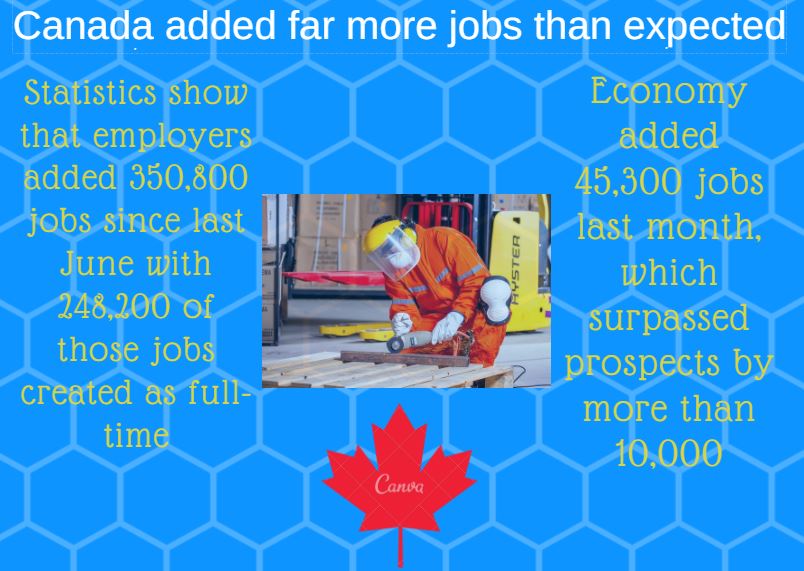 The strength of the labor market garnered most of the attention from economists as Canada continues to recover from lower oil prices that hurt the economy two years ago. Statistics show that employers added 350,800 jobs since last June with 248,200 of those jobs created as full-time.
Canada's central bank will meet to discuss the economy, and policymakers expect an interest rate hike as the economy continues to improve. It's a perfect time for foreign nationals to contact Canadian Visa Expert to move to Canada to take advantage of this time of progress and optimism.
Royal Bank of Canada's chief economist, Paul Ferley, said, "Strength in labor markets and no indication of a pullback leaves the central bank in a prime position to start tightening fiscal policy."

In 2015, Canada's central bank raised key interest rates twice to soften the blow from low oil prices. Since then, the bank has left rates unchanged at 0.50%. Policymakers believe the cuts did the job, and it is time to raise rates.
The odds of a rate increase rose to 90.6% from 85.6% while the Canadian dollar hit a 10-month high.
Employers hired more computer system designers, which added 27,000 professional jobs to the improving economy. Healthcare and public administration also added new jobs while the economy saw solid gains in agriculture and marketing.
Hourly wages were up 1% from last year, and Scotiabank economist Derek Hall said it is only a matter of time before wages start to firm.
Contact Canadian Visa Expert today for more information on immigrating to Canada!